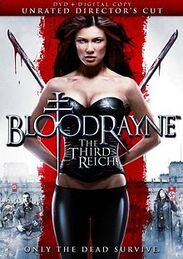 BloodRayne: The Third Reich is a direct-to-DVD action-adventure horror film directed by Uwe Boll,[2] set in 1943 Europe during World War II and starring Natassia Malthe as dhamphir Rayne and Michael Paré as vampire Nazi officer Ekart Brand.[3] It premiered at the American Film Market on November 5, 2010 and released on DVD and Blu-ray on July 5, 2011 in the United States. It is the third film in the BloodRayne series based on the video game BloodRayne and it is a sequel to BloodRayne and BloodRayne 2: Deliverance, also directed by Boll. It is the second BloodRayne film to star Malthe after BloodRayne 2: Deliverance. Paré, who played Iancu in BloodRayne and Pat Garrett in BloodRayne 2: Deliverance, plays yet another character in this film. Boll, who is already planning a sequel, shot BloodRayne: The Third Reich simultaneously with Blubberella, with both films sharing some of the same actors, including Michael Paré, Clint Howard, Brendan Fletcher and Willam Belli.
Rayne fights against the Nazis in Europe during World War II, encountering Ekart Brand, a Nazi leader whose target is to inject Adolf Hitler with Rayne's blood in an attempt to transform him into a dhampir and attain immortality.[4]
Ad blocker interference detected!
Wikia is a free-to-use site that makes money from advertising. We have a modified experience for viewers using ad blockers

Wikia is not accessible if you've made further modifications. Remove the custom ad blocker rule(s) and the page will load as expected.