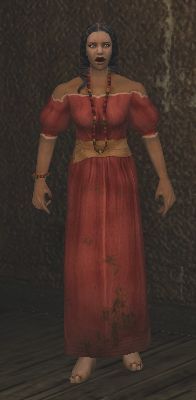 Kazi was a woman who lived in Morton, Louisiana. She seemed to know voodoo magic. Kazi tried to use the magic to kill Marassa, a self-proclaimed voodoo priestess, but obviously failed. She mentioned Marassa to Rayne when she was rescued in the ghetto, calling her "dat bitch Marassa", and threatened to kill or very seriously hurt the priestess. During this time, she also mentioned Jürgen Wulf, saying that Marassa apparently hooked up with "the old German". Kazi warned Rayne about Jürgen by saying "Scary man... Evil...". She escaped the ghetto to the mausoleum, but was eaten by a Maraisreq when it was attacked.
Ad blocker interference detected!
Wikia is a free-to-use site that makes money from advertising. We have a modified experience for viewers using ad blockers

Wikia is not accessible if you've made further modifications. Remove the custom ad blocker rule(s) and the page will load as expected.